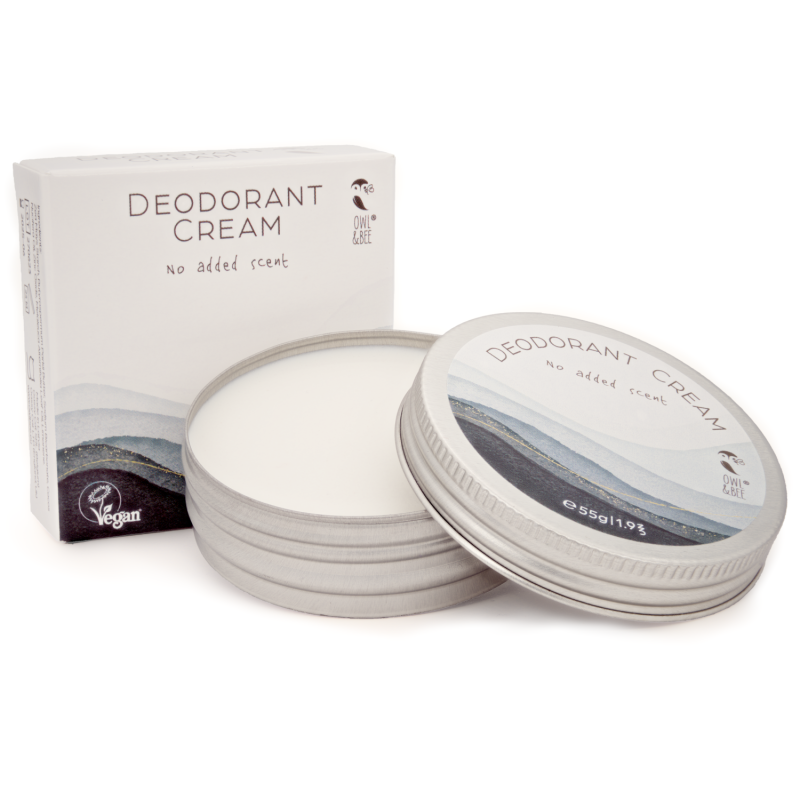  
Deodorant cream
No added scent
55 g
Our "no fuss" deodorant cream is soft, easy to apply, and gentle on your skin. It contains only the ingredients necessary to get the job done. Use it daily to take care of your body, and the noses around you!
no added
colours
no added
scent
Our aluminium and alcohol free deodorant cream is the perfect alternative to mainstream deodorant, saving on water pollution and plastic waste.
Your armpits will love our gentle formulation, rich with shea butter, coconut oil, and tea tree oil. Our deodorant cream won't dry your skin, and is effective on even your most active days. Simply rub a bit of cream into your armpits and you're good for the day!
The Owl & Bee® no added scent deodorant cream is perfect for armpits that wish to be taken care of in a natural and efficient way!
No nasties are included and all the ingredients are 100% vegan 🥦
This deodorant cream is soft and easy to apply, does not contain any colourants or added fragrances, and is perfect for sensitive skin
Easy to travel with no airport security hassles and no risk of leaking as it's not a liquid, and it takes up less space in your toiletry bag!
Using our deodorant cream means using less water and no plastic waste compared to traditional deodorants
Typically lasts several months (depending on usage)
Comes in a steel tin that can be reused and in an FSC certified box made from paper from a mixture of sustainably forested trees and sustainably recycled paper
🌱 Officially certified with The Vegan Society — no animal derived ingredients, cruelty free — only 100% vegan ingredients!
As with everything Owl & Bee®, our cream has been ethically, responsibly, and environmentally sourced, and comes packaged in a reusable or recyclable steel tin, in a recyclable paper box. You won't find any plastic here, let alone any nasty ingredients like colourants, fragrances, alcohols or aluminium.
Our deodorant cream has been rigorously tested by The Vegan Society, and is therefore 100% vegan, cruelty free, and does not contain any animal or petroleum byproducts.
Zone

Body

Scent

No added scent

Vegan certification

The Vegan Society

Height

6.7

cm

Width

6.7

cm

Depth

2.0

cm

Net weight

55

g

Gross weight

82

g

Reference

CD100ZZ
Packaging
We take responsibility for our packaging, and we work very hard to ensure we strike the right environmental balance. For hygiene, regulatory, and practicality reasons, we need to package our deodorant cream in a box, and all packaging is sourced from within Europe.
For the box, we use certified Forest Stewardship Council (FSC) mixed-source paper, using a healthy balance between recycled paper and virgin pulp. Our paper in not coated with anything, and really is 100% paper, making it entirely recyclable or biodegradable, depending on how it is disposed of.

The deodorant cream comes in a steel tin, which is readily and easily recycled, but consider reusing the tin for something before you decide to recycle it! If you live somewhere where the steel tin cannot be recycled, rest assured that it is inert and will not cause any environmental damage if it must go to regular landfill — it will naturally rust away.
Deodorant cream from Owl & Bee® is so easy to use!
Simply take a small amount of the cream from the tin with your finger, and gently rub it into your armpits.
For best results, apply immediately after showering or bathing, and only use as much as is necessary to cover your armpits without making them white — this will help avoid wasting deodorant and leaving white marks on clothing.
Zea Mays Starch

(

Cornflour

)

Butyrospermum Parkii Butter

(

Shea Butter

)

Sodium Bicarbonate

(

Bicarbonate of Soda

)

Cocos Nucifera Oil

(

Coconut Oil

)

Zinc Oxide

Melaleuca Alternifolia Leaf Oil

(

Tea Tree Oil

)

Limonene
You might also like