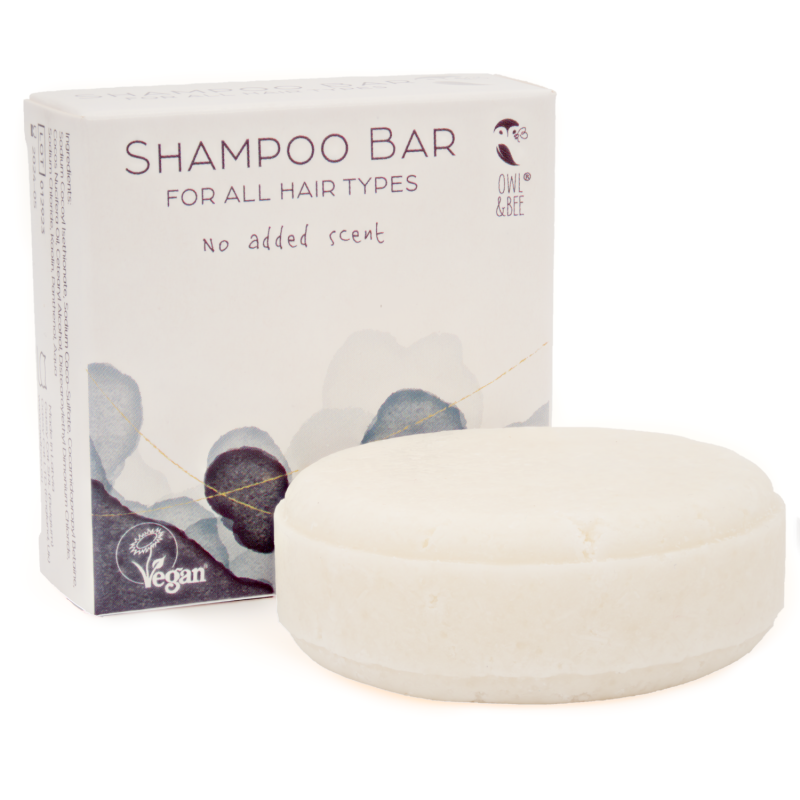  
Shampoo bar
For all hair types
No added scent
58 g
Your hair will love our "no fuss" shampoo bar, which includes only the ingredients necessary to give you beautiful clean hair.
no added
colours
no added
scent
Our amazing Owl & Bee® shampoo bar doesn't include anything nasty, like unnecessary colourants or fragrances, and instead only contains the ingredients necessary to give you the amazing hair you deserve.
Enriched with coconut oil and clay, our no added scent shampoo bar is suitable for all hair types.
The Owl & Bee® no added scent shampoo bar is perfect for people that wish to care for their hair in a natural and effective way
No nasties are included and all the ingredients are 100% vegan 🥦
This bar does not contain any colourants or added fragrances, which is perfect for sensitive skin
Suitable for all hair types 😁
Easy to travel with no airport security hassles and no risk of leaking as it's not a liquid, and it takes up less space in your toiletry bag!
Using our shampoo bar means using less water and no plastic waste compared to liquid shampoo
Typically lasts twice as long compared to liquid shampoo (depending on usage)
Comes in an FSC certified box made from paper from a mixture of sustainably forested trees and sustainably recycled paper
🌱 Officially certified with The Vegan Society — no animal derived ingredients, cruelty free — only 100% vegan ingredients!
Not to mention this shampoo bar works so well with our solid conditioner bar! 😉
We have worked hard to ensure a high quality shampoo bar is a perfect replacement for traditional liquid shampoo, and you won't find anything soapy or waxy here. By using our shampoo bar, you will help reduce water pollution and eliminate plastic packaging — Our bar comes packed in a recyclable paper box, is totally biodegradable, and even typically lasts longer than a bottle of liquid shampoo.
All Owl & Bee® shampoo bars are proudly 100% made in Europe, and are totally vegan, as rigorously certified by The Vegan Society.
Use our shampoo bar with our incredible conditioner bar for truly awesome hair!
Zone

Hair

Vegan certification

The Vegan Society

Height

6.3

cm

Width

6.3

cm

Depth

2.3

cm

Net weight

58

g

Gross weight

66

g

Reference

BS100ZZ
Packaging
We take packaging very seriously, especially the impact it has on the environment. Unfortunately packaging is necessary for hygiene, regulatory, and practicality reasons and cannot be entirely eliminated, but we have worked hard to ensure that the packaging is only the bare minimum required, and sourced within Europe near our factory.
The box is made using certified Forest Stewardship Council (FSC) mixed-source paper, combining a healthy balance between recycled paper and virgin pulp. Because the bar contains oils, the inside of the box is coated with a cellulose coating (also made from wood pulp) to avoid the oils degrading the box. The box is entirely recyclable or biodegradable, depending on how you dispose it.
Whether you have used shampoo bars before, or it's your first time, our shampoo bars are easy to use — simply follow these easy steps:
Wet your hair entirely.
With wet hands and a small amount of water, place the shampoo bar in one hand, and rub vigorously with the other hand to form a lather.
Take the foam from the lather and massage into the roots of your hair, and into your scalp, in the same way as you would for liquid shampoo, repeating the lathering process in your hands if you need more shampoo.
Rinse your hair entirely.
For best results, repeat the shampooing process one more time.
Finish by using an Owl & Bee® conditioner bar to help revitalise your amazing hair!
💡 Tip — to avoid wasting water while showering, we recommend turning off the water when not wetting or rinsing your hair.
Sodium Cocoyl Isethionate

Sodium Coco-Sulfate

Cocamidopropyl Betaine

Cocos Nucifera Oil

(

Coconut Oil

)

Cetearyl Alcohol

Distearoylethyl Dimonium Chloride

Sodium Chloride

(

Salt

)

Kaolin

(

French Pink Clay

)

Panthenol

Aqua

(

Water

)
You might also like